Eastern Bloc Cycling Club
Pittsburgh's "Dirty Dozen"
The "Dirty Dozen" is a gran fondo-type event (more or less) in which riders compete to see who can climb fastest up 13 of the steepest hills in and around Pittsburgh. The hills average 19% grade, with one--said to be the steepest paved (with bricks or cobbles no less!) road in North America--rated at 37%. Riders (at least those who consider themselves true competitors) who touch down during the ascents for any reason are required to go back down to the bottom and repeat the climb. With the exception of the segment leading up to the final hill, the ride is neutralized between hills.
My daughter-in-law, Stefanie Sydlik, won the women's division of this year's event on her first try, taking 12 of the 13 hills despite having to repeat two of them because her chain dropped. She was also the first woman in the history of the event to win "man points", coming in 5th overall. For this she got a cash prize, a write-up with full-color photo (they labeled it "The Mighty Stefanie") in the Pittsburgh Post-Gazette and also a nice mention in a Washington Post article about the race.
Stef, who is a former world-class rower and has come in 2nd and 3rd at the Mt. Washington Hillclimb, is hoping to get a sponsorship from Garmin. To that end, she is seeking followers on Strava. Anyone interested in following her or in checking out the Dirty Dozen's incredible elevation profile can do so at the link below. (No need to have a Strava account to view ride or course info.) Stef Sydlik - Strava - Pittsburgh's Dirty Dozen . Stef's twitter feed is @StefSydlik.
For a glimpse of this year's race, check out this link: Dirty Dozen 2015 - Canton Ave - 37%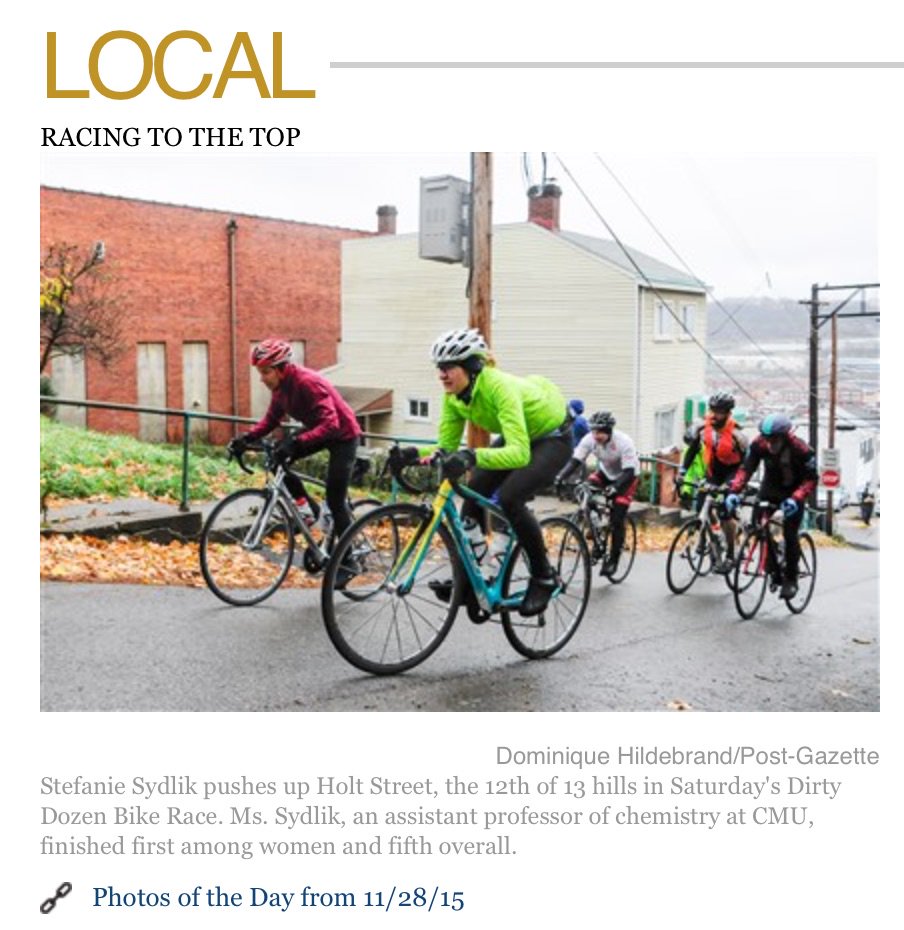 That's cool. Like a hill fest for Pittsburgh. Having a difficult time believing a 37% incline though